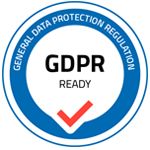 Agree to process personal data from the contact form
In the case of your interest in completing and submitting the contact form, you are declaring your free and voluntary consent to the processing of personal data in accordance with EU Regulation No. 2016/679 on the protection of individuals with regard to the processing of personal data and on the free movement of such data (General Privacy Act) and the related Personal Data Protection Act no. 18/2018 Z.z. - hereinafter "GDPR").
Consent is given for the following categories of personal data:
- Name,
- Surname,
- Address,
- E-mail adress,
- Telephone number.
The consent is granted exclusively to the company 4 KRAT s.r.o., Štefánikova tr. 53, 949 01 Nitra, IČO: 31450792 (hereinafter referred to as the operator). These personal data are provided solely for the purpose of contacting the applicant and answering his questions about the products and services provided by KRAT s.r.o .. This consent is granted for a period of 5 years from the date of filing and sending of the contact form.
You may at any time revoke your consent to processing your personal information by sending an email request: 4krat (at) 4krat.sk. In case of withdrawal of consent to the processing of personal data or after expiry of the processing period, these data will be deleted from all operator's databases in accordance with valid legislation, unless the data subject with the operator agrees otherwise.